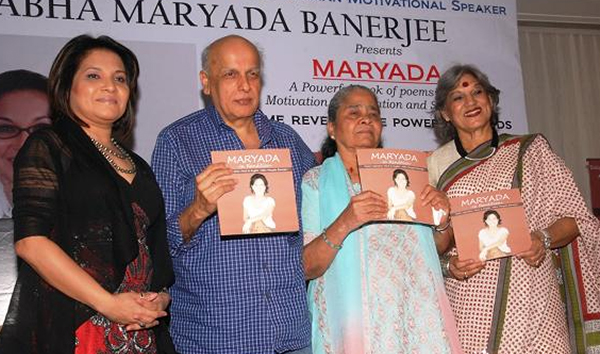 The inspiring book of poems "Maryada" by Abha Maryada Banerjee was released with great aplomb at RahejaClassique today on the 20th of November 2012. Mahesh Bhatt, Dolly Thakore and Abha Singh attended the launch adding the extra motivational touch along with Anubhav Sinha (director Raone) and Ashwini Chaudhary (director Dhoop and Jodi Breakers).
Abha Banerjee With Mahesh Bhatt and Dolly Thakore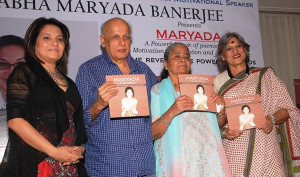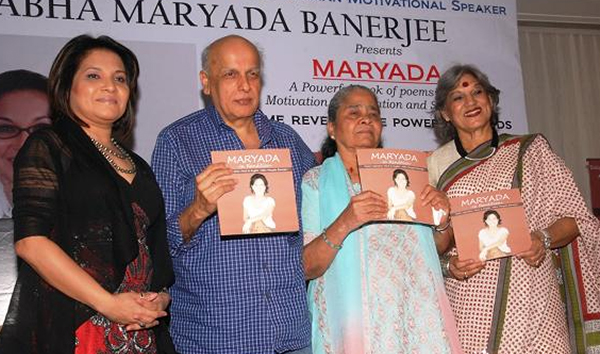 Encouragingly, Mahesh Bhatt and Dolly Thakore also read excerpts from the book. Said the great film maker Mahesh Bhatt "Life is like the oyster that turns the grain of sand which has intruded inside and turns it into a pearl. Please note that the oyster changes the sand into pearl simply because it does not want to suffer the anguish of having a foreign body inside it…"Maryada" is like that…it helps you take whatever life throws at you and turn it into pearl"
Anubhav Sinha (Director Raone) with Abha Banerjee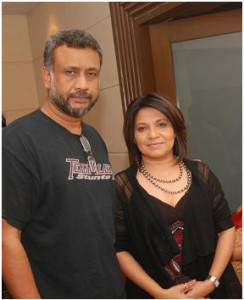 "Maryada", a coffee table book, and is a beautiful collections of poems about motivation and inspirational displaying the possibilities of the human mind and intent. Abha Maryada Banerjee observes that one trait she found in most people anywhere in the world is that they are not able to speak their mind freely. She says "This book helps you to go on a self search thus aids you to build your confidence to the level that you can speak your mind…to be free from the naysayers and to be closer to God".